Refresh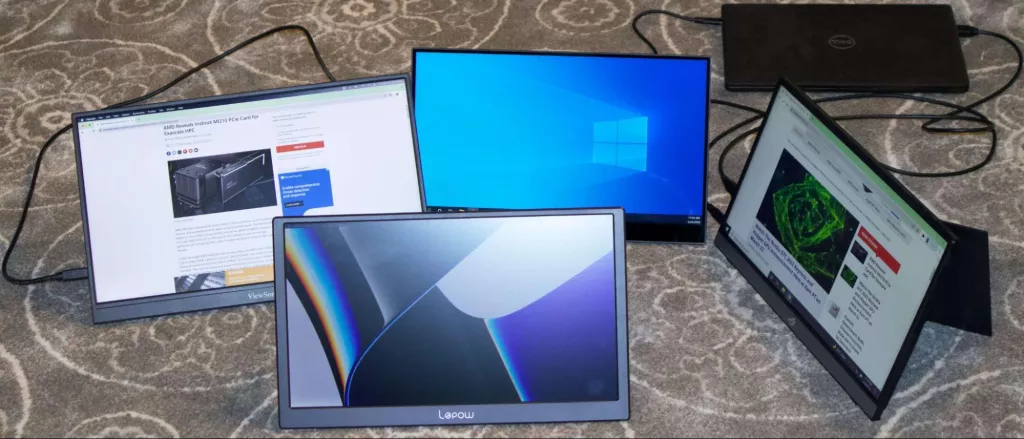 Take a Second Screen With You . . . For Cheap
We talked earlier about all the Prime Day monitor deals you can use to revamp your desktop experience, but this is also a great time to improve your portable work environment. If you're like us, you have two or more large displays at home so it's a major let down when you hit the road and find yourself staring at one tiny 13, 14 or 15-inch display. 
Fortunately, there's never been a better time to buy a portable monitor that you can sling in your bag and use as a second screen in the hotel, the airport or even your office. There are some wonderful Prime Day deals on portable monitors, starting from the $139 Lepow C2 and going all the way up to more expensive screens with OLED and / or 4K.
When considering a portable monitor, you need to keep just a few things in mind:
How will you connect to it?: Most portable monitors now connect via USB-C alternative mode and can get their power over Type-C as well. But what if your laptop doesn't have a USB-C port that does video out or, better still, what if you want to use the monitor with another device such as a Raspberry Pi? Many portable monitors also have mini HDMI in or even mini DisplayPort. Make sure the ports match your needs.
Size: Most portable monitors at 15.6 inches though there are some 13 and 14 inch models on the market, which will take up less room in your bag. If you don't mind hte smaller size, you wil gain portability. Forget about a 17-inch portable monitor if you want to take it anywhere.
Resolution: The most common and sensible resolution for a portable monitor is 1920 x 1080. At 13 to 15 inches,  you don't benefit much from having more pixels and you'll just need to turn up scaling to enlarge everything. However, there are some 4K portable monitors out there for those who are doing graphics work and are really picky. Try to avoid getting a 1366 x 768 monitor if at all possible, because that resolution is just too low.
Kickstand and Mounting: Different portable monitors have different methods of mounting. The best situation is if you have a built-in kickstand, but some models have magnetic stands that attach and others — the worst case scenario — make you use a filmsy origami style cover to prop them up.
The best portable monitor deals this Prime Day are on lesser-known, but reasonably well established brands such as Lepow and Innocn. The cheapest choice is the Lepow C2 which, for $139, gives you a 1920 x 1080 resolution on its 15.6-inch display, along with a built-in kickstand and the ability to connect via USB-C, mini HDMI or even mini DP. 
However, when we reviewed the Lepow C2, we noted that it only got a measly 148 nits of brightness on our light meter, which means you don't want to use it anywhere near a window. However, it did manage to reproduce 113 percent of the sRGB color gamut.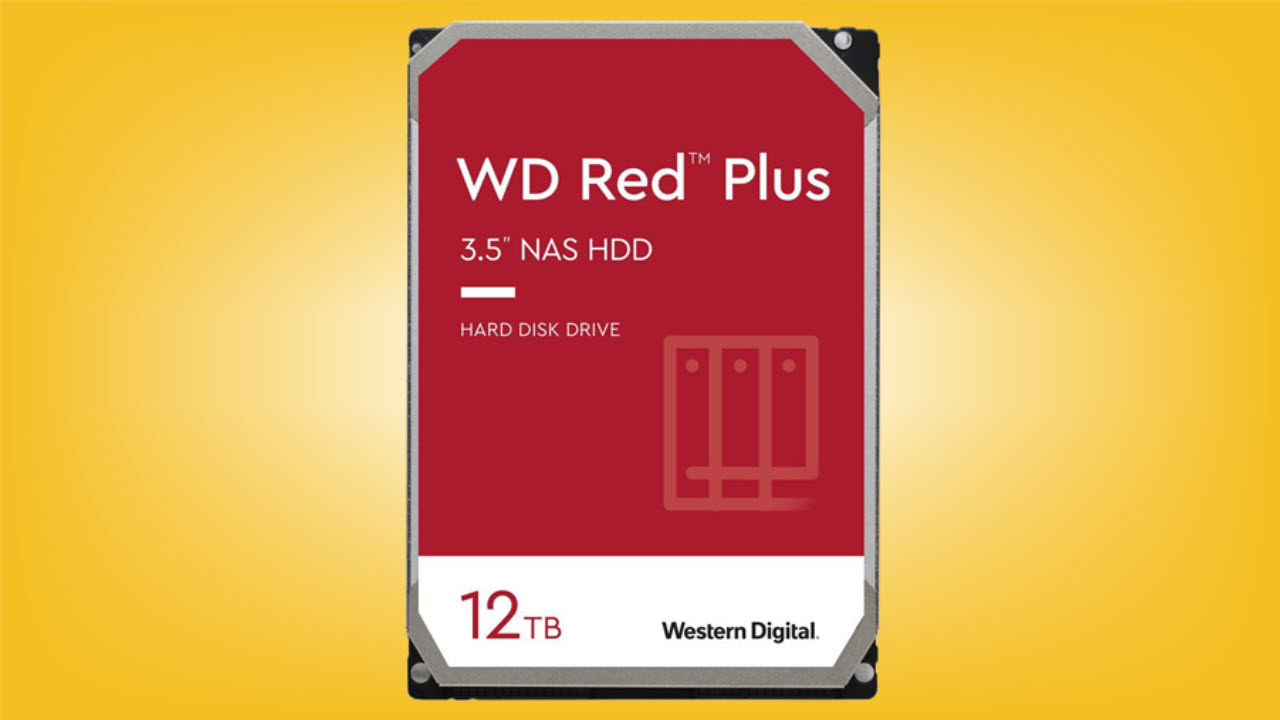 You Might Actually Need a Hard Drive . . . Yes One of Those
SSDs are all the rage with their flash-fueled speed, but big slow hard drives still have a use for storing bulk data, like videos, pictures, and backups. Luckily, you'll pay far less per terabyte of storage for a hard drive than an SSD, but finding high-capacity and high-performance HDDs at reasonable prices isn't always easy. That's a bit easier today, though, as WD has marked down the pricing of its 12TB and 14TB WD Red Plus HDDs for Amazon Prime days, marking the lowest pricing we've seen for drives of this caliber. 
If you need voluminous high-performance internal storage, the 12TB WD Red Plus NAS hard drive is on sale for a mere $195 — that's $60 off, an all-time low, and comes with free shipping (you'll need to use the FTSBUAA749 promo code). The 14TB Red Plus model is also marked down to $209, an all-time low. And while these drives are designed for use in NAS, they'll be just as happy inside a standard desktop PC.
These are great prices for 3.5″ SATA drives that spin at 7,200 RPM, boast a 256MB cache, and can deliver up to 196 MB/s (12TB) or 210 MB/s (14TB) of throughput. The drives also use the high-performance Conventional Magnetic Recording technology instead of the performance-killing SMR often used in cheaper offerings and/or external drives. 
Scoring a sweet deal on a big slab of storage usually involves searching for an external hard drive, which often comes with a big discount compared to standard drives, and then popping it out of the shell and using it as a standard HDD. This process, called "shucking," unfortunately voids the warranty. 
In contrast, you won't have to shuck the WD Red Plus drives and they come with a three-year warranty that covers 24×7 use, a 180TB-per-year workload rating, and 600,000 load/unload cycles, meaning these high-performance drives can easily withstand even the most demanding conditions. 
WD Red Plus NAS 12TB Hard Drive: was $289, now $195 at Newegg
WD Red Plus NAS 14TB Hard Drive: was $479, now $209 at Newegg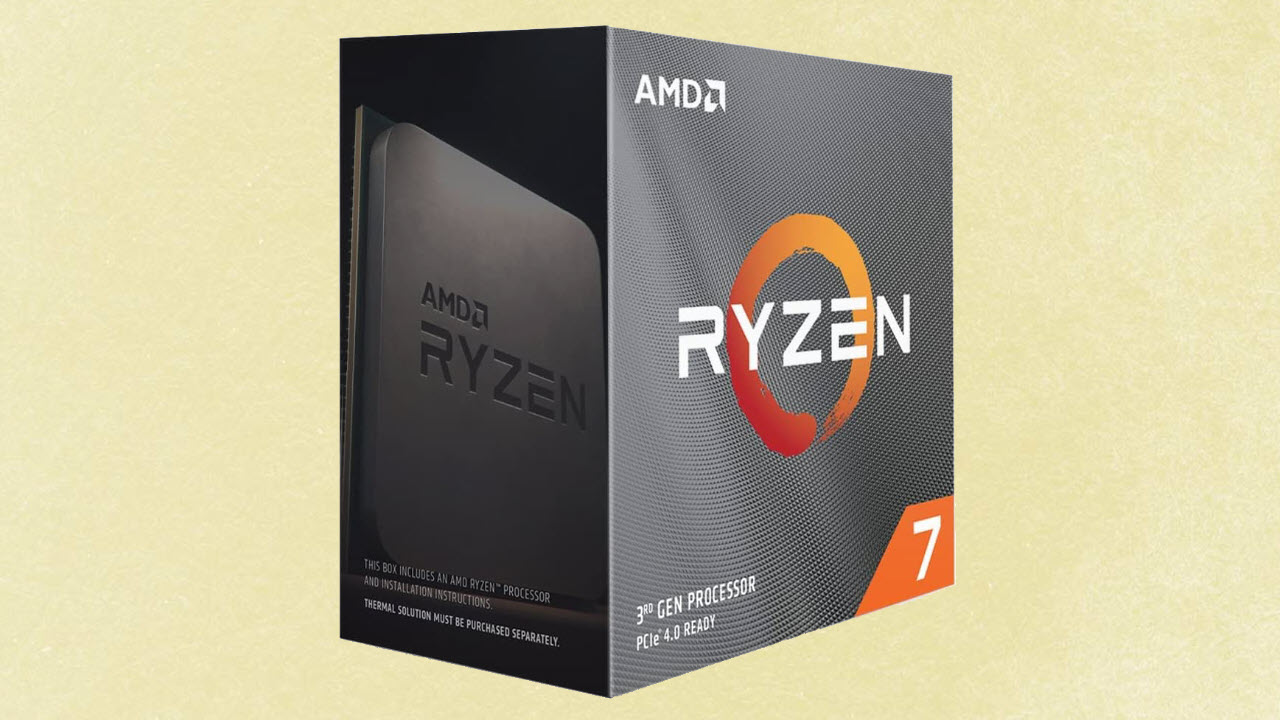 AMD Ryzen Deals Make for Great Upgrades
AMD's Ryzen 5000 was a game-changer, but the company's initial salvo of chips originally came to market with prohibitively high pricing, which was a drag for value seekers. The heated AMD vs Intel competition has changed the paradigm, though, and AMD has released a new wave of chips that bring pricing more in line with competing Intel chips. Two of those new chips are on sale for Amazon Prime Day. 
The eight-core 16-thread Ryzen 7 5700X is a stellar value at its Prime Day pricing of $249 at Amazon (opens in new tab), which represents a savings of $50 and an all-time low price. The Ryzen 7 5700X supports the full Zen 3 feature set, meaning the CPU is overclockable and has the DDR4-3200 and PCIe 4.0 interfaces, but it comes at a much more amenable price point than its very similar counterpart, the Ryzen 7 57800X.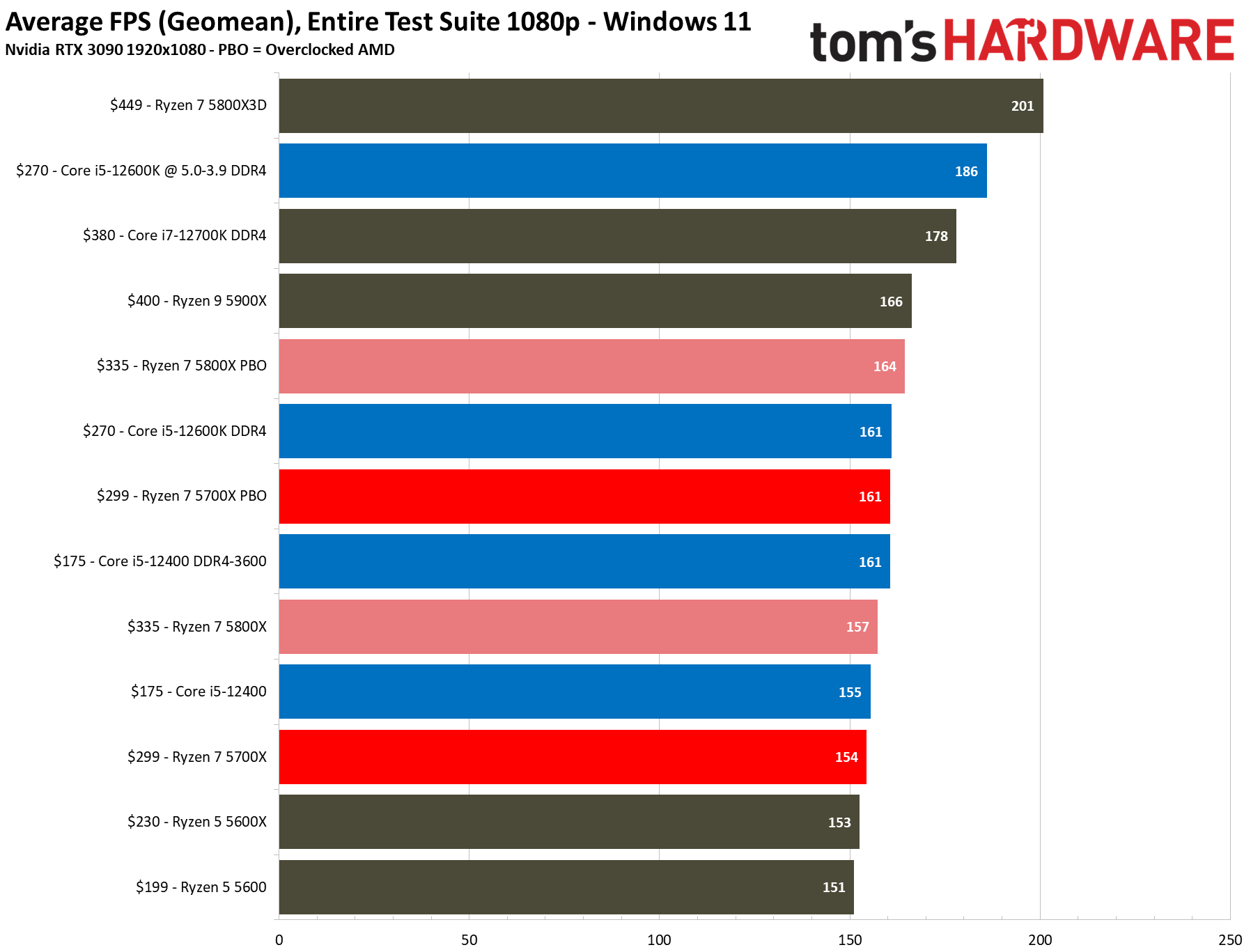 The Ryzen 7 5700X holds its own against some of the best CPUs for gaming, and it has a pretty solid showing on our CPU benchmarks hierarchy, too. AMD's other offerings, like the Ryzen 5 5600 and 5500, are also great for upgraders, but the 5700X brings more threaded heft to the table for heavier applications, including game streaming. That makes it a wonderful choice if you want to upgrade your existing Ryzen system with a chip that offers more performance in heavily-threaded applications than the lower-end alternatives. 
Meanwhile, the Ryzen 5 5600 serves up a solid blend of performance at its $179 price point at Amazon, a savings of $20. This six-core 12-thread chip boosts to 4.4 GHz and comes with a bundled Wraith Stealth cooler, so you're good for cooling when you pull the chip out of the box. 
But, perhaps most importantly, both of these chips drop into almost all existing AM4 motherboards after a BIOS update, including motherboards dating back to the 300-series that debuted in 2017. So if you own a first- or second-gen Ryzen system, you can simply drop either of these chips in and not worry about swapping out other components. 
AMD Ryzen 7 5700X: was $299, now $249 at Amazon
AMD Ryzen 5 5600: was $200, now $179 at Amazon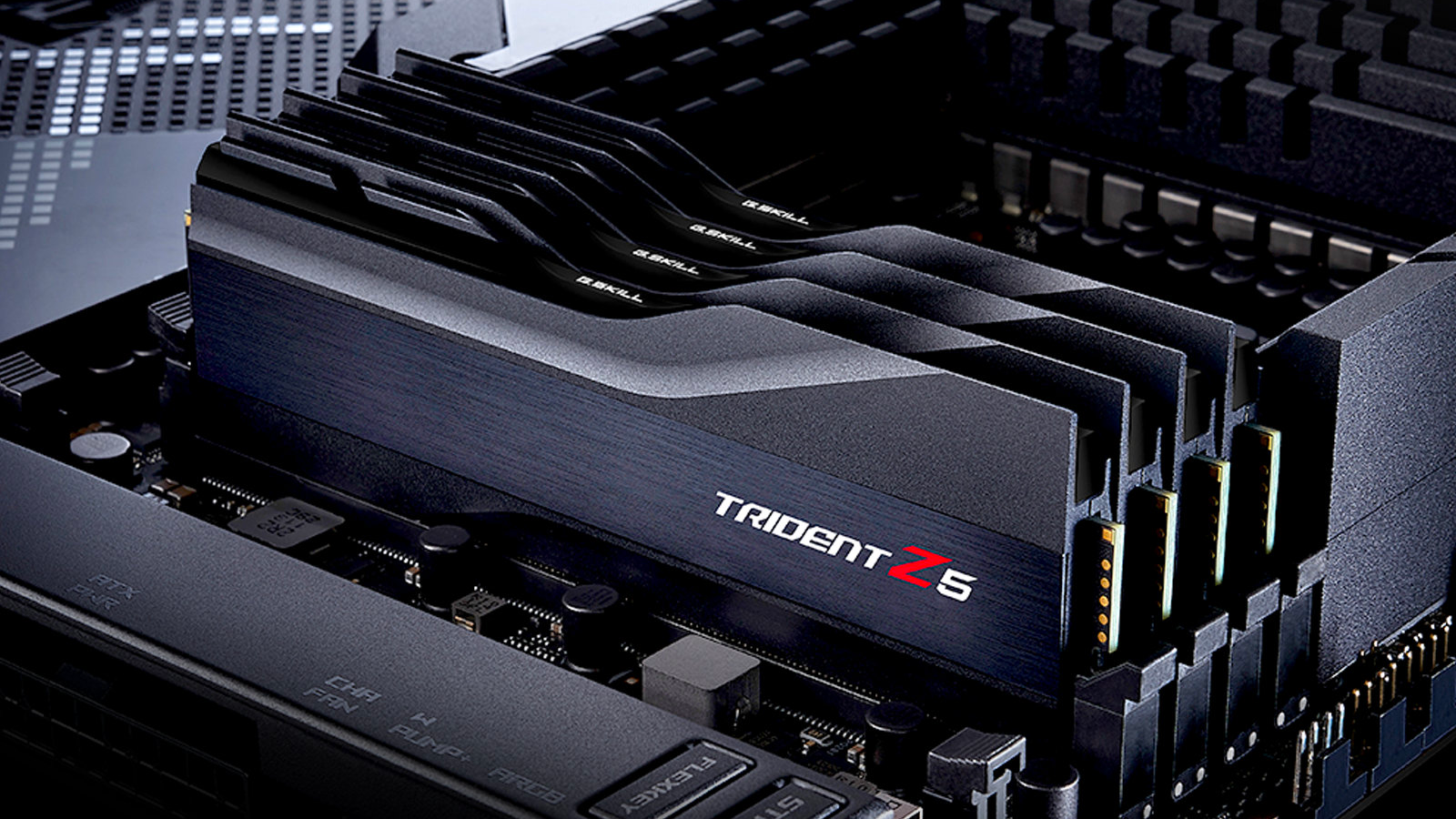 Which Prime Day RAM is Best for Your Budget?
Like other computer hardware, RAM also experienced price hikes during the pandemic. However, now that things have settled down, DRAM pricing has started to decline. If you've been waiting to pick up a brand-new DDR4 or DDR5 memory kit, now would be a good time as Amazon's Prime Day has brought us many attractive deals.
The G.Skill Trident Z5 RGB DDR5-6000 C36 memory kit is a suitable high-performance 32GB (2x16GB) option if you don't want to spill lots of cash on the RAM. The memory runs at DDR5-6000 with 36-36-36-96 timings and a 1.35V DRAM voltage. The G.Skill Trident Z5 RGB DDR5-6000 is currently available for $319.99, 11% less than its regular price.
The Crucial DDR5-4800 C40 memory kit fits the bill if you need a temporary memory kit to get by while waiting for something better. At $145, it's currently the cheapest 32GB (2x16GB) memory kit on the market right now.
Regarding DDR4, the G.Skill Ripjaws V DDR4-3600 C16 is a very nice 32GB (2x16GB) memory kit that's fast, but without going overboard. While Amazon typically sells it for $154.99, you can grab it for just $139.99 during Prime Day.
AMD and Intel's latest platforms support DDR4-3200 memory by default, meaning you shouldn't go lower. However, Silicon Power's DDR4-3200 C16 16GB (2x8GB) offers outstanding value for what it brings to the table. Normally retailing for $72.97, it can be yours today for just $46.97.
G.Skill Trident Z5 RGB DDR5-6000 C36 32GB: was $359, now $319 at Amazon
Crucial DDR5-4800 C40 32GB: was $192, now $145 at Amazon
G.Skill Ripjaws V DDR4-3600 C16 32GB: was $154, now $139 at Amazon
Silicon Power Value Gaming DDR4-3200 C16 16GB: was $72, now $46 at Amazon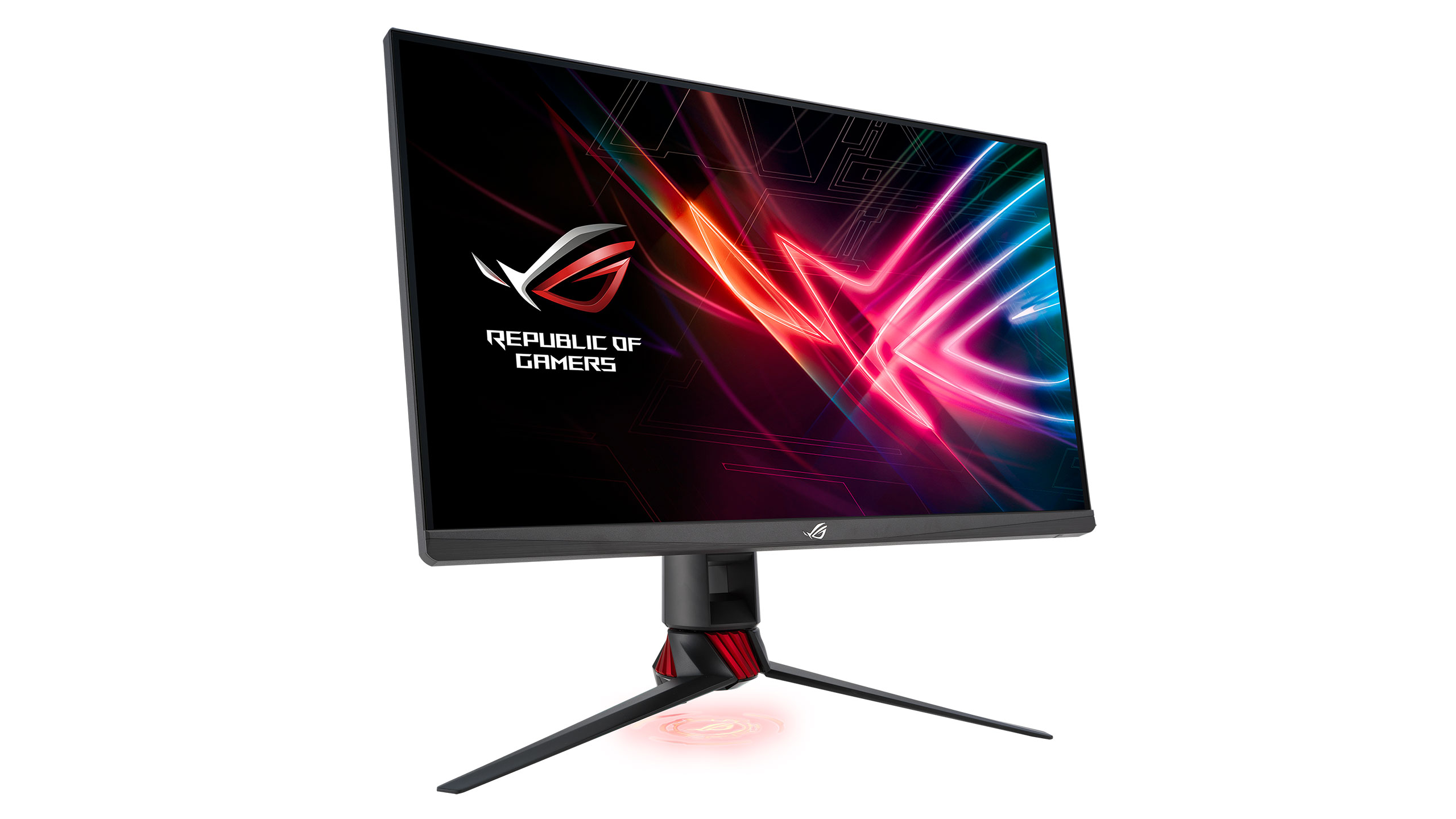 Choosing the Right Monitor on Prime Day

Prime Day tends to be great time to find deals on monitors — we've collected a bunch of them in our Prime Day Monitor Deals (opens in new tab) hub. But which monitor is right for your needs, and what specs and features are the most important? There are plenty of opinions, and your intended use case will certainly play a role. Whether it's for gaming or productivity, image editing or movie watching, there's a display out there that's right for you.
If you're the type of person that wants it all — resolution, refresh rate, color accuracy, panel type, contrast, size, and whatever other aspects you care about — be prepared to spend more. On the other hand, those who just want an everyday workhorse monitor that looks okay and handles basic office tasks can find some budget options that should prove perfectly adequate.
The three biggest factors in choosing a monitor (besides price) are the size, resolution, and refresh rate. They're interdependent as well, meaning the size may determine what resolution would be best, and resolution can impact the refresh rate. But beyond just the monitor, you should also consider the rest of your PC hardware, and the graphics card (opens in new tab) in particular.
A 4K, 144 Hz, G-Sync/FreeSync, HDR display might sound like it offers the best of all worlds, but many games won't run at anywhere near 144 fps, or perhaps even 60 fps if your GPU isn't up to the task. In fact, even the mighty GeForce RTX 3090 Ti only averaged 81 fps at 4K ultra across our standard test suite — and a piddly 32 fps in ray tracing games, though that improved to 60 fps with DLSS Quality mode.
For this reason, 2560×1440 — or 3440×1440 if you prefer an ultrawide experience — tend to be preferable to 4K resolutions for most gamers. A more modest GPU like the RTX 3080 12GB (opens in new tab), which you can pick up for $729 this Prime Day, can still manage over 100 fps at 1440p ultra, or 86 fps with ray tracing and DLSS enabled. This is also why 360 Hz esports monitors are currently only available with 1920×1080 resolution.
Refresh rates aren't just for gaming, though. Get used to the feel of Windows on a 120 Hz or 144 Hz monitor, and even your desktop can feel sluggish if you go back to a 60 Hz display. It's also a good idea to get a G-Sync or FreeSync monitor if possible, as that can eliminate screen tearing if your system can't maintain framerates above the maximum supported refresh rate.
What about size? Some feel bigger is better, others prefer higher DPI panels. A 50-inch 1080p HDTV sitting a few feet away for example would have very noticeable pixels. Conversely, a 24-inch 4K display might end up with text being "too small" without enabling DPI scaling. Ideally, you want a display you can comfortably use at 100% scaling at its native resolution. Subjectively, that means around 32-inches (or more) for 4K, 27-inches (give or take) for 1440p, and 24-inches or less for 1080p.
There are many other factors, liked curved screens, panel types, color accuracy, contrast, viewing angles, and more. We dig into the details more in our best gaming monitors guide, and how much each of these matters ends up a matter of personal opinion as much as anything. Price also matters, as the most beautiful monitor in the world won't matter much if it's way out of your price range.
With all of the above in mind, here are a few of our favorite monitor deals currently available this Prime Day.
Dell S3222DGM 32-inch (2560×1440, 165Hz): was $409, now $299 at Dell
LG 34WP65C 34-inch (3440×1440, 160Hz): was $499, now $349 at Amazon
Alienware AW2521HF 24.5-inch (1920×1080, 240Hz): was $394, now $259 at Amazon
Samsung M8 32-inch (3840×2160, 60Hz): was $729, now $549.99 at Amazon
Gigabyte G27Q 27-Inch (2560×1440, 144Hz): was $329, now $249 at Newegg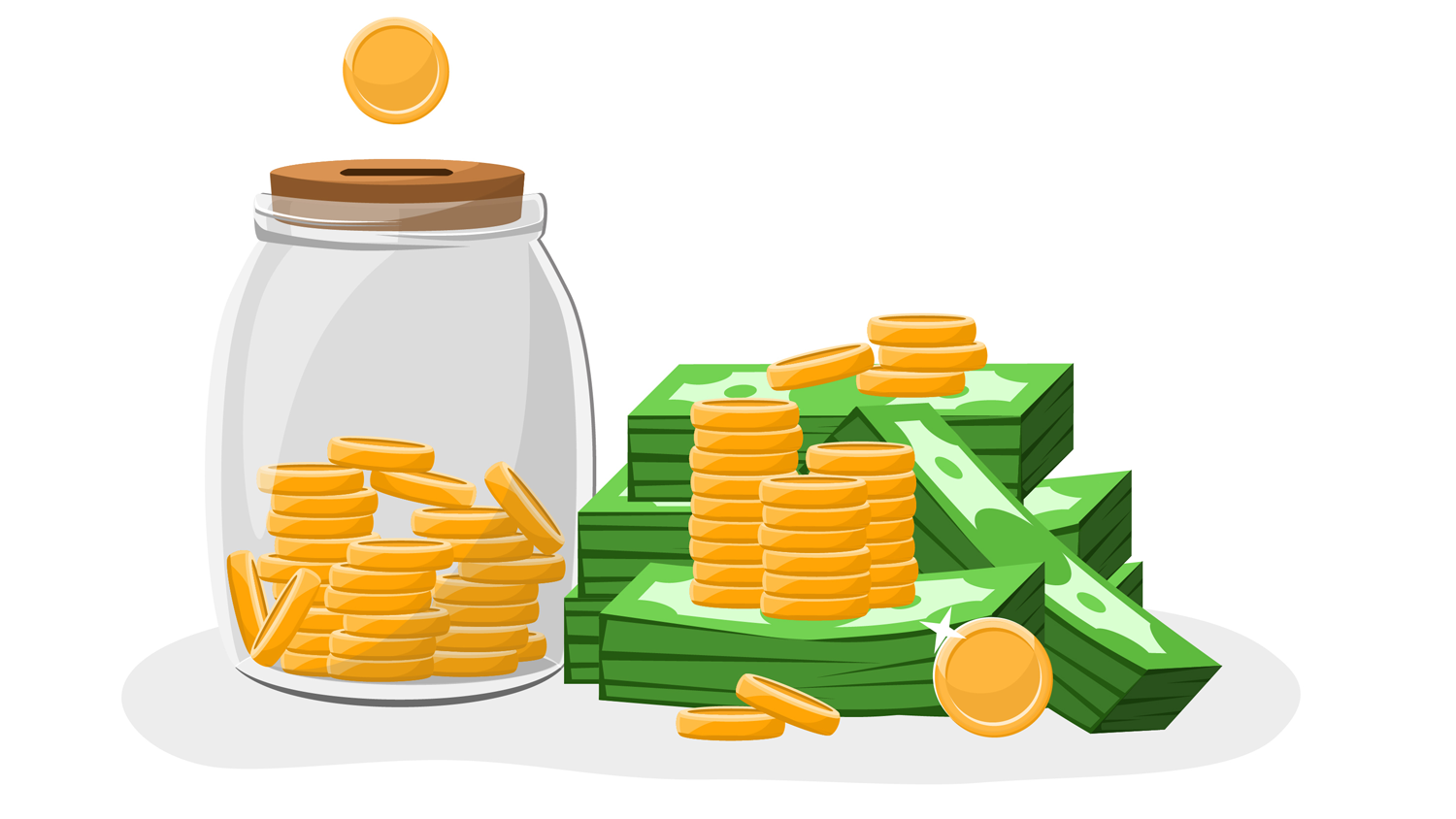 Trick: You May Be Able to Get $12.50 for Free with $50 GC Purchase
There's nothing like free money. In addition to the $10 Prime Stamp card, which Amazon officially promotes, there appears to be a way to get $12.50 of Amazon credit by entering a coupon code when you buy a $50 gift certificate for yourself. This tip comes via a thread on Reddit (opens in new tab) where tipsters say that bought themselves $50 gift certificates and then entered the code GCPRIME22 at checkout (some tried EGCPRIME22). 
I'm not going to guarantee that this will work, but I tried it today and it *seemed* to work for me, though it supposedly takes up to two days to get the $12.50 so I can't know for sure. However, I got a confirmation message saying that my $12.50 was coming and, if it doesn't, I lost nothing because all I did was put $50 in my Amazon account (which I'm sure I'll spend soon).
Here's how to try the free $12.50 trick. 
1. Navigate to Amazon's eGIft Card Page. We recommend doing this in a desktop browser as Redditors report that they didn't get a confirmation message when doing this from mobile.
2. Send a $50 email Gift card to your email address (or someone else's if you want to give them money.) Click Add to Cart.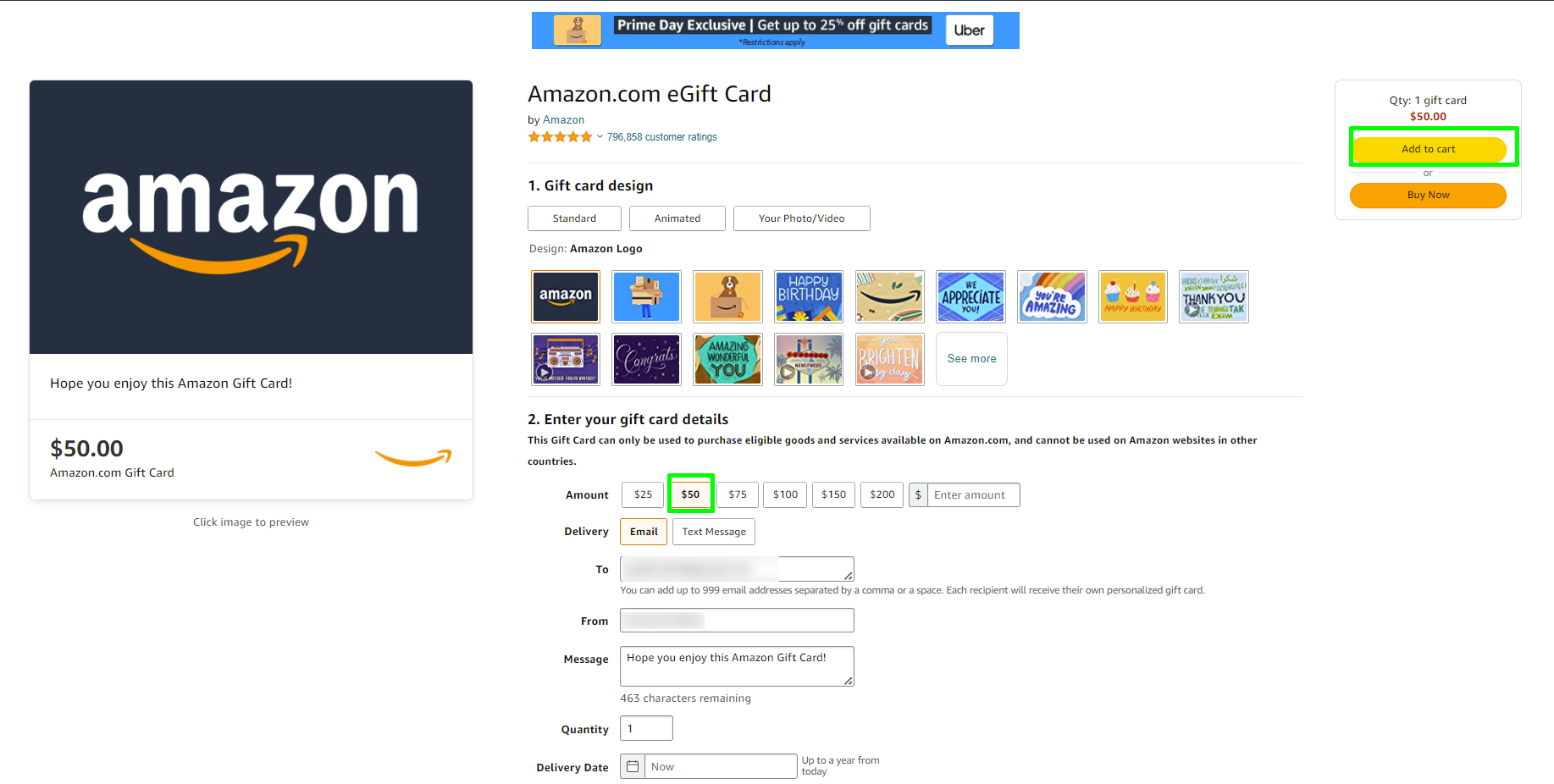 3. Enter coupon GCPRIME22 at checkout in the "Add a gift card or promotion code box." If this doesn't work, you can try EGCPRIME22.
If the coupon code works, you should get a notice on this page saying that you'll be getting a $12.50 promotional credit within two days. If you don't get this message, you can stop now.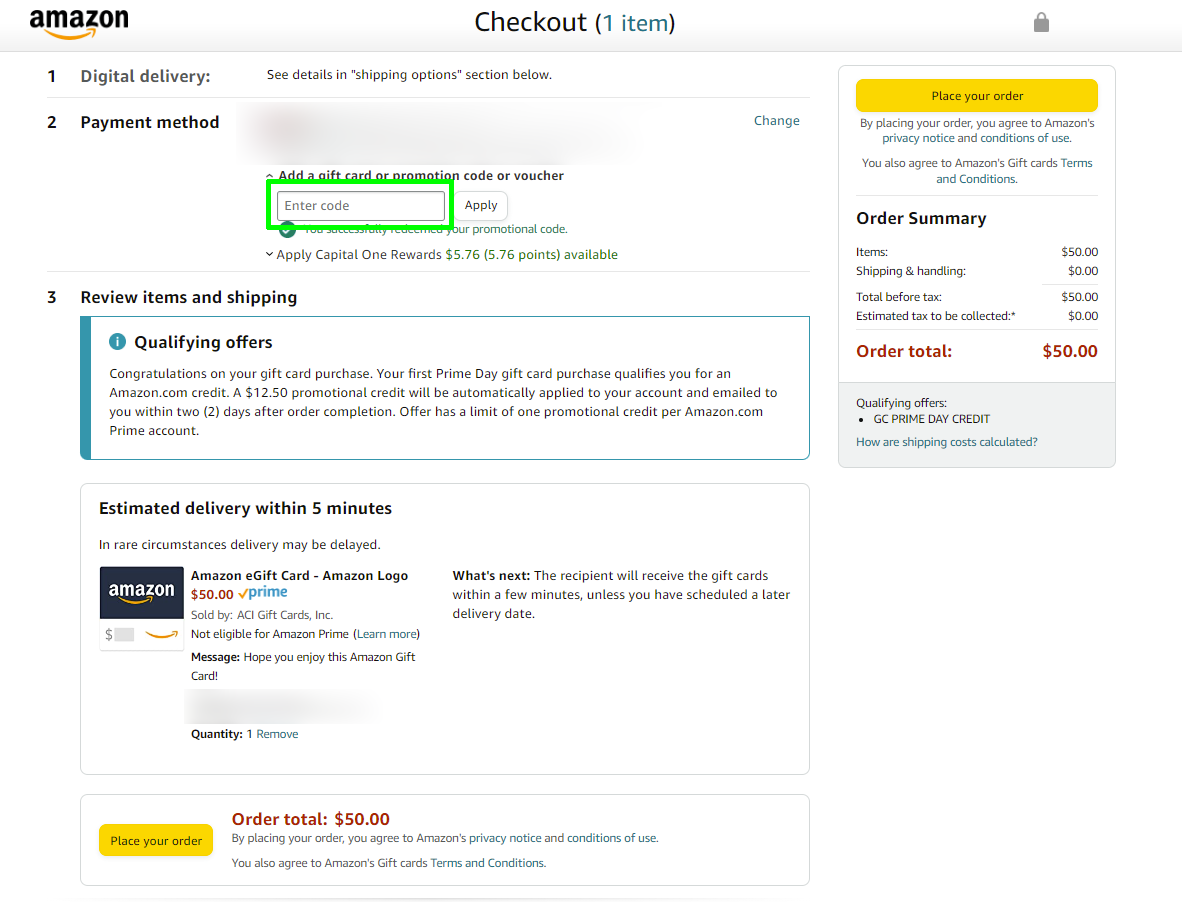 4. Place your order.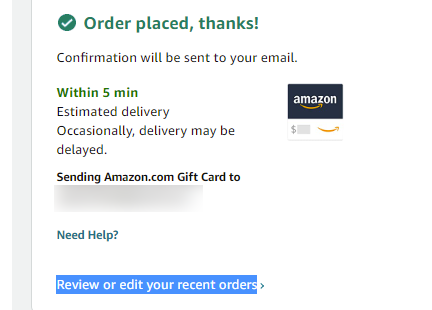 After a few minutes (in my case, it was about 20 minutes), you'll get the $50 gift card in your email and you can redeem it on  your account. The $12.50 promotion *should* come later, but we can't guarantee it. Obviously, you have to spend $50 to try this but if you use Amazon a lot, you'll probably go through that $50 on  your account in no time.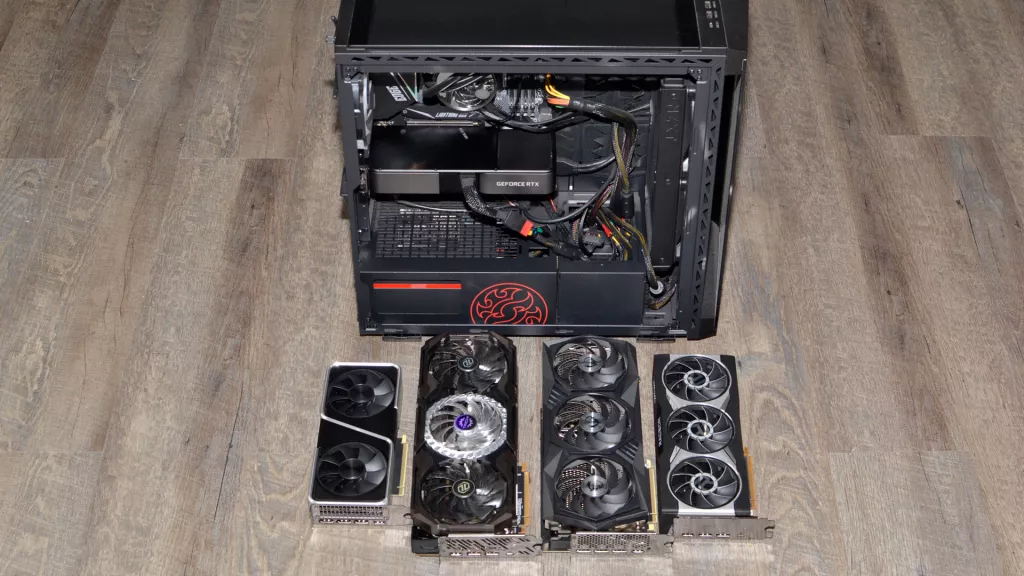 Which Prime Day GPU is Best for Your Budget?
Throughout some of 2020, all of 2021 and even earlier this year, it was difficult to find a graphics card in stock, let alone available at a reasonable price. Between chip shortages brought on by the pandemic and crypto miners who were buying everything with a fan on it, demand was far outpacing supply and the lack of GPUs was ruining the PC industry for gamers and hobbyists. After all, how many people would even want to put together a PC if they can't get their hands on the graphics card they need to make the best PC build for their needs.
Now, not only are the best graphics cards available at close to or sometimes below MSRP, but also you can find some great sales. We have a very comprehensive list of offers on our Prime day graphics card deals page, but here I'd like to talk about choosing the right one.
We'll start at the high-end, because for many PC gamers, RTX 3080 is the GPU they aspire to get (RTX 3090 Ti is tops but too expensive for most to consider and not really worth it). Today, there are several deals on RTX 3080 cards that bring the cost down below $800. 
The best of these deals is on Gigabyte's OC RTX 3080 with 12GB. With the coupon code VGAEXCRWF22 on Newegg, this card costs just $729, a fraction of its original $1,349 price. Most importantly, its 12GB of VRAM actually puts it two places above the RTX 3080 Ti on our GPU benchmarks hierarchy. In short, this card can deliver 60+ fps at 4K resolution with Ultra settings or well-over 120 fps at 1080p Ultra.
But let's say that $729 is more than you can afford to spend on a graphics card right now. How about spending $389 on an RTX 3060-powered card? 
Cards based on the RTX 3060 can play games at 1440p Ultra settings at over 50 fps while delivering well over 80 fps in 1080p Ultra. The cards support DLSS and ray tracing too. 
If $300 is a price Rubicon you can't cross, AMD has your answer in the Radeon RX 6600 GPU which can just about match the RTX 3060 at 1080p resolution. You can now find an RX 6600 card for just $254 on Prime Day.
If you're building a really budget-oriented system, the next step down is an AMD RX 6500 XT powered card, which is available for as little as $174. A 6500 XT card can make it to just around 30 fps at 1080p Ultra Settings and to more than 60 fps at medium settings. 
Gigabyte Gaming OC RTX 3080 (12GB): was $1349, now $729 at Newegg
Gigabyte Eagle OC RTX 3060: was $409, now $389 at Newegg
PowerColor Fighter Radeon RX 6600: was $299, now $254 at Amazon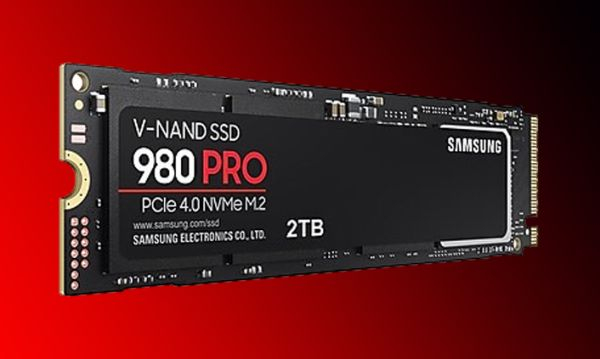 Samsung 980 PRO (2TB) Now Down to $194
Prices are dropping so fast this Prime Day that sometimes we write an article or two and then the prices we used in the article change later in the day. Earlier today, we wrote about how the 2TB capacity of this popular SSD had dropped to the all-time low price of $229.
Just a few minutes ago, we clicked the link again and, lo and behold, Samsung / Amazon have discounted the drive to an even-lower price of $194, another all-time low. As we stated in an earlier post, the WD Black SN850 is still a better deal at $180 for a faster 2TB, but for some folks, only a Samsung SSD will do and this is the best one around. 
Samsung 980 PRO PCIe Gen 4 2TB: originally $430, now $194 at Amazon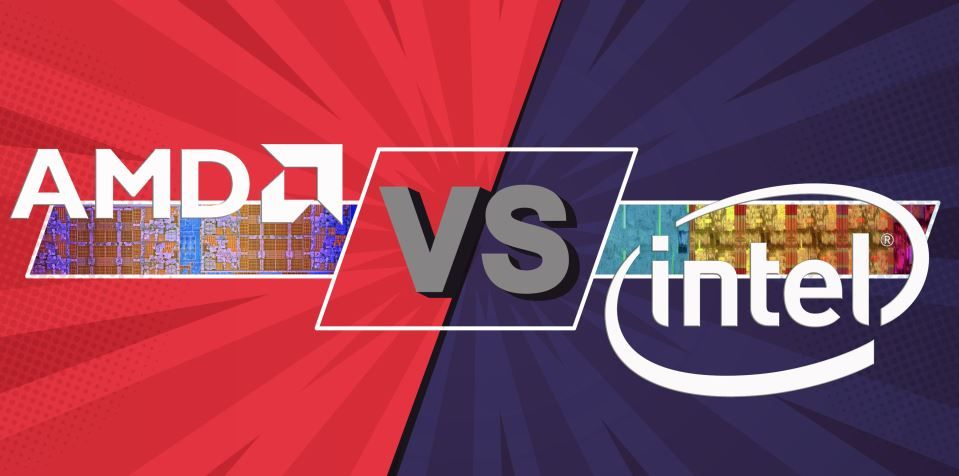 AMD vs Intel: Whose CPU is the Best Prime Day Deal?
Marvel or DC? Star Wars or Star Trek? Paper or plastic? These are the eternal questions that divide us, but the rivalry between Intel and AMD divides us even more. However, if you're just planning your next PC build and you don't identify as "Team Red" or "Team Blue," you are probably wondering which company's processors are the best choice this Prime Day.
So, let's take a look at the sales, which we've documented comprehensively on our list of best Prime Day CPU deals.
Sub-$200 CPUs: Core i5-12400F vs Ryzen 5 5600G
On the low end of the price spectrum, we have Intel's Core i5-12400F processor, which sits atop our list of best CPUs, simply because it's such a great bargain even at its regular price. This 12th Gen "Alder Lake" CPU has 6 performance cores, 4 efficiency cores and a maximum boost clock of 4.4 GHz. You normally get all that for $179, but today it's $150 at Newegg (opens in new tab). It supports DDR4 or DDR5 RAM and PCIe 5.0.
In our gaming tests, the 12400 (which is the 12400F but with integrated graphics) offered frame rates that were noticeably better than AMD's Ryzen 5 5600X when paired with a discrete graphics card and just a tad below much more expensive processor. The Ryzen 5 5600X, which has 6 cores and a 4.6-GHz boost clock, is on sale for $174.
If you don't plan to buy a graphics card and want to rely on high-quality integrated graphics, AMD's cheapest Prime Day CPU, the Ryzen 5 5600G, is the right choice. It's on sale for $155 right now and combines 6 cores with a 3.9-GHz boost clock and strong integrated Radeon graphics. These graphics are good enough to play games at 720p or maybe 1080p with the settings turned down, which is why we made the 5600G the centerpiece of our best PC build under $500.  
So, in short, if you are planning to get a graphics card (perhaps from one of the Prime Day graphics card deals), Intel's Core i5-12400F is for you and, if you want to stick with integrated graphics, go with the 5600G.
Intel Core i5-12400F CPU: was $179, now $150 at Newegg
AMD Ryzen 5 5600G: was $259, now $155 at Amazon
AMD Ryzen 5 5600X: was $309, now $174 at Amazon
Mid-Range CPU: Core i5-12600KF vs Ryzen 7 5800X
When you take your budget into the $200 to $300 range, your best choices are Intel's Core i5-12600KF, which is currently on sale for $229, or AMD's Ryzen 7 5800X, now going for $274. The 12600KF and the 12600K (which is the same CPU but with integrated graphics you shouldn't bother with) have 6 performance cores, 4 efficiency cores and a max boost clock of 4.9 GHz. Because this is 12th Gen Intel "Alder Lake," you have support for DDR5 RAM and PCIe 5.0. The 12600K / KF is also overclockable, but you'll need a Z690 motherboard to do any overclocking and those go for at least $175, usually more.
AMD's Ryzen 7 5800X has 8 cores and 16 threads to go with a 4.7 GHz boost clock. It supports PCIe Gen 4.0, but not DDR5 or PCIe Gen 5.0. However,  you can overclock it and get all the features out of it on a motherboard that goes for less than $100. 
Between these two chips, the Intel-12600KF is cheaper on its face and more future-proof in that it supports newer technologies. Intel's chip also provides slightly better frame rates (with discrete graphics) at 1080p and much stronger single-threaded overall performance. However, the Ryzen 7 5800X is slightly ahead at 1440p until you overclock the 12600K (which is very doable).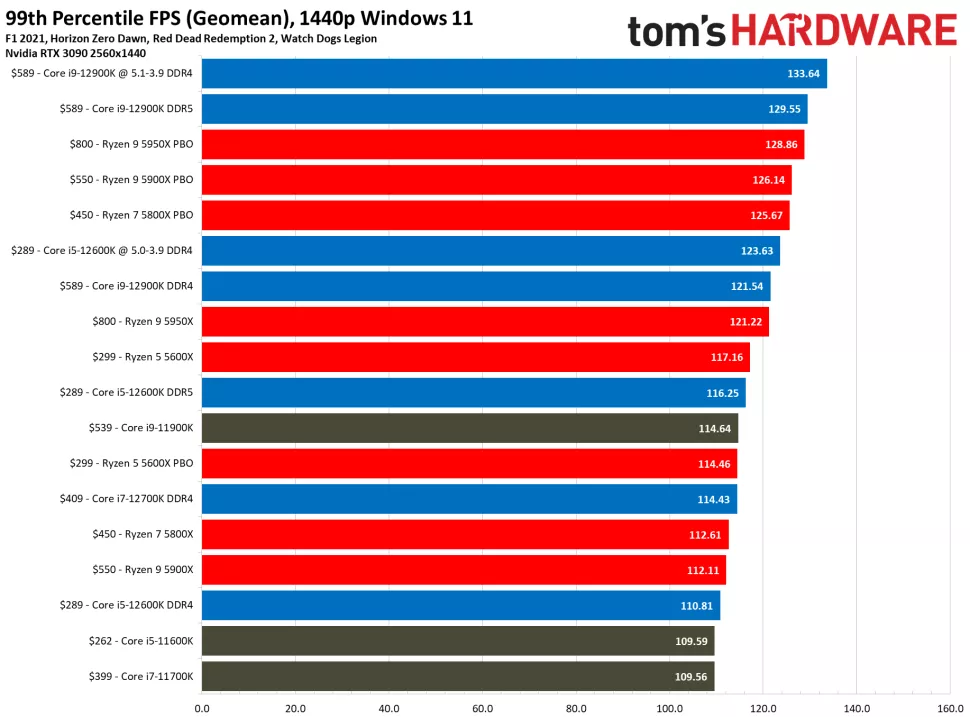 However, if you plan to do heavy multitasking or productivity work such as video editing, AMD's processor might be the better choice. When you compare the cost of getting a compatible motherboard, the 5800X is actually a bit cheaper.  
AMD Ryzen 7 5800X: was $449, now $274 at Amazon
Intel Core i5-12600KF: was $259, now $229 at Amazon
High-End CPU: Intel Core i9-12900K vs AMD Ryzen 9 5950X
Both companies' have nice Prime Day discounts at the top of their stacks. The Intel Core i9-12900K is now $539 (reduced from $617) while the Ryzen 9 5950X is $548, down from $799.
When it comes to 1080p gaming, the Core i9 with its 8 performance cores, 8 Efficiency cores and 5.2-GHz boost clock, comes out way ahead of its rival at 1080p. At 1440p, they are more evenly matched if both are using DDR4 memory. The Intel chip comes out way ahead if its using DDR5.
In single-threaded performance, the Core i9-12900K continues its dominance over the Ryzen 9 5950X with its 16 cores, 32 threads and 4.9-GHz boost clock.  However, when we jump to multithreaded apps, AMD's chip, unsurprisingly, wins out.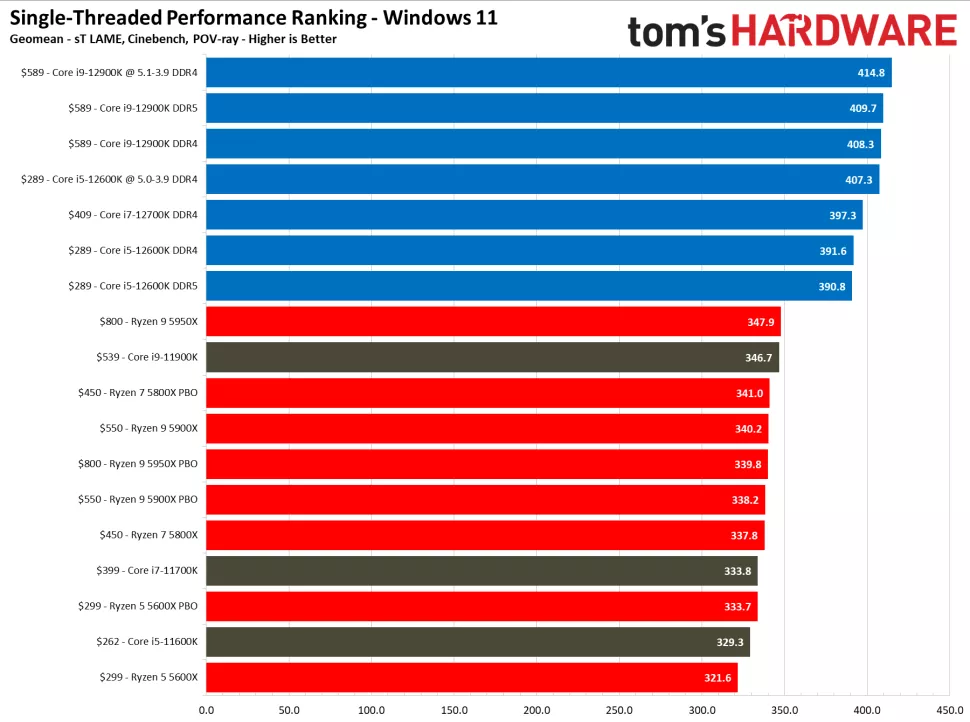 Again, the cost of the motherboard has to be a factor. You can get use the Ryzen 9 with a B450 or B550 chipset motherboard that costs less than $150 or $100 while the Core i9-12900K really need something that costs closer to $200.
All of that being said, the Core i9-12900K is the clear winner here because it's much faster in single-threaded apps and gaming. Unless you don't plan to game, go with Intel in this price range.
Intel Core i9-12900K: was $617, now $539 with code FTSBUAA53 at Newegg
AMD Ryzen 9 5950X: was $799, now $548 at Amazon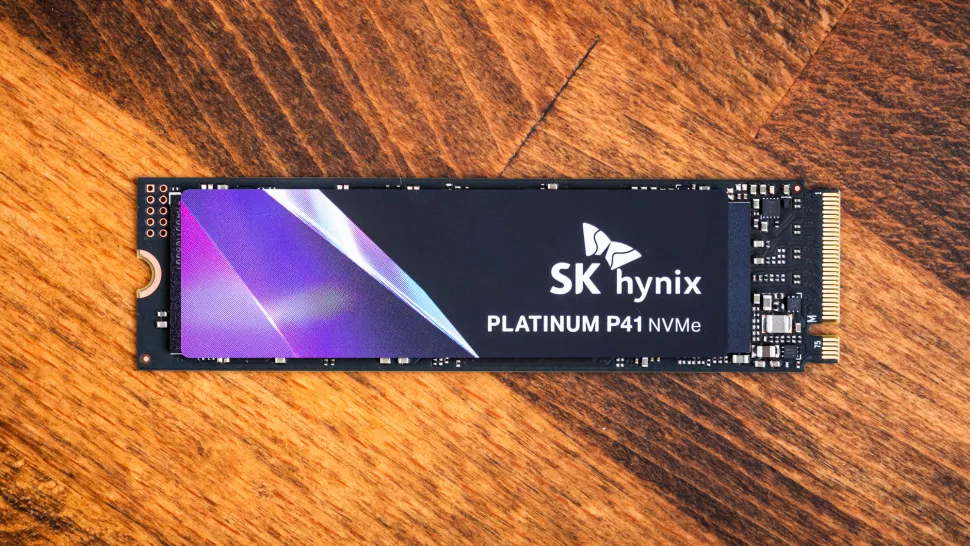 Prime Day 2022 is only a few hours old but the battle for your dollars is well under way. Nowhere is the competition more intense than in the PC storage market. If you're planning to build or upgrade a PC, one of the components you need most is an SSD (solid state drive). And, if you already have one, you probably want a faster or higher-capacity drive to replace it.
This year, as we track all the Prime Day SSD deals, we're seeing some great prices on 2TB NVMe SSDs that use the speedy PCIe 4.0 interface. For example, right now, you can get the SK hynix P41 Platinum (2TB) for just $207 at Amazon, an all-time low price. That drive tops our list of best SSDs, because it can deliver 1.4 million IOPS random reads or 7,000 MBps in sequential reads.  
However, despite the fact that the P41 is faster, a lot of folks trust the Samsung brand most and will prefer the Samsung 980 PRO SSD, which is now just $194 for the 2TB capacity. The 980 PRO is rated for 7,000 MBps sequential reads with 1 million IOPS of random reads so it's no slouch either. 
Finally, there's WD's Black SN850, another speedy PCIe 4.0 drive from a very reputable brand. It's going for a really-low $180 for the 2TB capacity today, another all-time low price. The SN850 is rated for 7,000 MBps sequential reads and 1 million IOPS of random reads.
In our testing, the SK hynix P41 clearly dominates the field in 3D Mark, a synthetic benchmark which simulates game loading. However, the SN850 isn't far behind nor is the 980 PRO.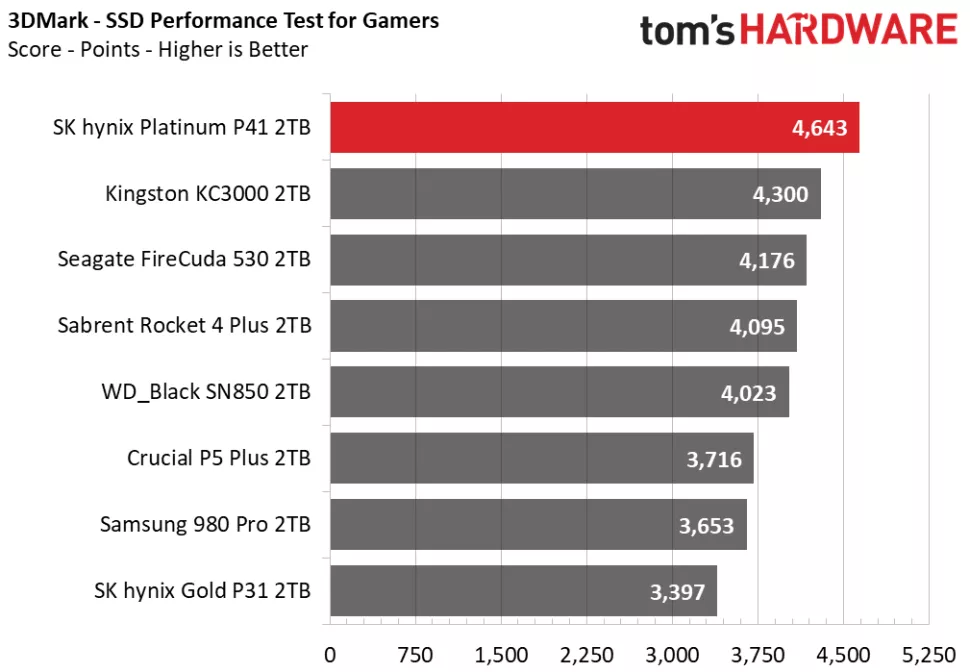 The WD Black SN850 is clearly the best value here. However, the SK hynix P41 Platinum is noticeably faster so it may be worth the extra $27 to get that added oomph. The Samsung 980 PRO is well known but neither the cheapest nor the fastest.
SK hynix P41 Platinum (2TB):  was $259, now $207 at Amazon
WD Black SN850 (2TB): was $239, now $180 at Amazon
Samsung 980 PRO (2TB): was $259, now $194 at Amazon
By the way, all of these drives are available in 1TB capacities, which offer similar performance at lower prices.
SK hynix P41 Platinum (1TB):  was $149, now $119 at Amazon
WD Black SN850 (1TB): was $139, now $109 at Amazon
Samsung 980 PRO (1TB): was $139, now $119 at Amazon
More Prime Day Deals